Introducing Baroness Avelina Keyes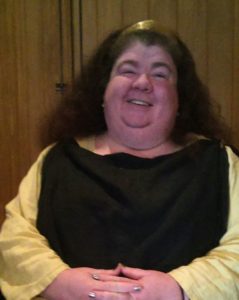 Who and what brought you to the SCA and when did you join?
Back in College, in the early to mid '90's, a couple of friends of mine had found a Pikestaff somewhere. They noticed that the guy inside the front cover lived in West Warwick, so, they called him. They met him at Bickford's in Warwick and they talked until 4 am. The guys met up with us in the next day or two and said, "We gotta tell you about this guy!" One of the guys who met Lucan was Syr Cullyn. I joined sometime in '94 or '95.
What makes you stay?
The SCA gives me a place to practice my crafts. There's only so many times you can make a calligraphied *thing* for your family before they get bored.
What was your first event?
I believe my first event was Lucan's Second Coronation at Francis Farm in Rehoboth. I had no idea what was going on. I remember three things from my first event.
A. Lucan almost smashing his noggin on the rafters when he was carried in on his shield.
B. I didn't know who she was *then*, but I remember seeing Countess Elspeth get up for one of the Orders and all I could think was, "Wow! She is so tiny! "
C. I had no idea what the Orders were *at all* and I had no idea why this guy up front kept calling out about "Silver Crescent" and half of the Court got up.
I get it now
What is your SCA name and how did you choose it?
Avelina Keyes
My father's family emigrated from Lancastershire, England. I had an idea that I wanted to do 14th cent English. One day at the East Providence Heritage Festival, I was looking through a garb book looking for inspiration when I came across an engraving captioned "Countess Avelina of Lancaster". I liked the clothing she was wearing and I thought the name "Avelina" was pretty. And, hey! She's from Lancaster. The "coat of arms" plaque from the mall that hung in my grandparents house said that our family coat or arms was erminois, and black and gold with keys on it. I knew I wanted something black and gold with keys. I was still struggling with a surname and someone suggested "Keyes". I tried it out and it just stuck. I guess it has a nice flow.
What is your persona?
My persona is that I am the surviving daughter of Baron Henry Keyes of Lockwood. My brother, Henry, died on the Tourney circuit in France. While he was out on the Tourney circuit, I served as my brother's chatelaine at Lockwood. I learned all facets of estate management during that time. When news, arrived of my brother's death, I became a "ward" of the Crown. The King found a suitable husband for me and we were married.
When Kenric started pushing for Crown and he wanted to do Early Medieval English for his persona, I joined him in the Early English/Viking world
What activities do you concentrate on?
I don't concentrate on anything. Ha!
I dabble in a variety of arts, sciences and martial activities. I have done archery, fencing, thrown weapons, cooking, calligraphy and illumination, weaving, glass bead making, metalwork, sewing, autocratting…
Avelina Keyes has had a very full and illustrious career in the SCA. She was queen of the East three times, has earned many awards and honors. She was recently in charge of the Society's East Kingdom 50 Year Anniversary celebration, which was a great success. With her vast experience in the SCA, we are very fortunate to have her in the position of Baroness Bridge.