The Barony recognizes gentles for their contributions of time and expertise through Baronial Awards. Who has recieved these awards and when is tracked along with Kingdom and Society level awards in the Order of Precedence. You can see a list for each award by clicking on the name of the award below.
Barony of the Bridge Awards
This award is given for long service to the Barony of the Bridge by members of the Barony. It is one of our oldest awards and is intended to show that the recipient is someone who helps hold up our wonderful Barony. This order also goes by the name the Order of the Pillars of the Bridge.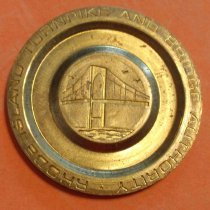 This is given by the Barony to gentles who reside outside of the Barony of the Bridge, but have none the less contributed long service to the Bridge. This is rumored to have originally been given with a Token for the Claiborne Pell Bridge as the token of the Order, but that tradition was discontinued when the bridge stopped using Tokens for it toll.
Order of Alcantara of the Bridge
This is a Baronial Award for service to the Barony
Baronial Award for Arts and Sciences
Baronial Award for the various Martial Activities within the SCA
Baronial Award for the children of the Barony